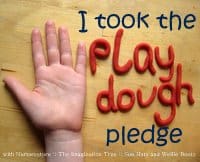 The kids have been asking to have a playdough bakery for a while now. So today I finally made one for them


I made my Strawberry Cake Dough, my Vanilla Ice Cream Dough, and my Chocolate Dream Playdough


each side had the same materials set out.


So Kaia and Mikey would have no reason to bicker over any of the goodies in front of them


I set out cupcake tins with reusable silicone cupcake liners, plates, ice cream scoopers, plastic fruit, and of course the three different kinds of playdough


I also set out candles and sprinkles (chunky glitter)


They both worked diligently. Pinching and pulling. Rolling and twisting. To get their playdough just right


Pushing in the sprinkles to make sure the cupcakes look just right


Adding more and more sprinkles. Because you just can't have enough sprinkles… at least not in our house.


The strawberry chocolate and vanilla playdough smelled incredible! Really you have to try these they are amazing!


Beautiful cupcakes


and a chocolate chip cookie!


Making a huge cupcake cookie tower


Choices, Choices, Choices. With such good bakers how can I choose just one tasty treat?!



For a list of all my Playdough recipes check HERE